Google, with the support of the Archaeological Survey of India (ASI), unveiled the first 360-degree online imagery of 30 iconic Indian heritage sites including Taj Mahal. People can explore national treasures online through Google Street View.
Besides Taj Mahal, 30 other iconic Indian heritage sites including Red Fort, Humayun's Tomb and Agra Fort are now live on Google Map through Street View.
Hundred of India's most important heritage sites are being made accessible to all people around the world. Google is using a 4-feet-high backpack, which weighs around 18 kilograms, to click thousands of images of the Taj so that Google can create a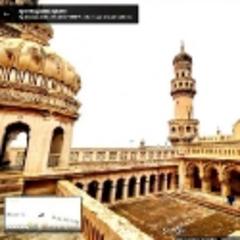 virtual replica of the world famous monument. The project, launched by Google in collaboration with ASI, is an attempt to put India's biggest historical sites on the web.
Google kicked off its Street View project in India in 2011. It put the special cars, which have the cameras mounted on top of them, to photograph streets, on the roads in Bangalore. But within days, the Bangalore police asked the company to stop the photography. Cops cited "security concerns" even though the permission for the photography had been granted. Google and Indian government then again started talks on the Street View. Those talks are yet to reach a logical end.
Given this background, the ASI officials approached the monument project cautiously. "But we showed them how we have photographed the sites in other countries and how those virtual monuments have allowed many more people to access them, even if only on the web. After a while ASI officials started warming up to the idea," said Suren Ruhela, geo product manager for Google India.