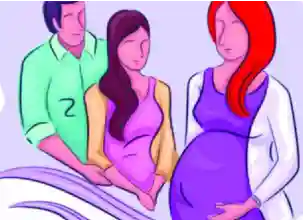 The Himachal Pradesh High Court has ruled that a mother by surrogacy is also eligible for the maternity leave benefits. The court observed that a woman having a child even if through an arrangement for surrogate parents, she is entitled to avail maternity leave benefits under Rule 43(1) of CCS (Leave) Rules, 1972.
The Court also observed that it would be "an insult to womanhood" to distinguish between a mother who begets a child through surrogacy and a natural mother who gives birth to a child.
The observation was made by the division bench comprising of Justice Tarlok Singh Chauhan and Justice Sandeep Sharma while considering a petition led by a surrogate mother seeking maternity leave benefits.
The bench observed that "Motherhood never ends on the birth of the child and a commissioning mother cannot be refused paid maternity leave. A woman cannot be discriminated against, as far as maternity benefits are concerned, only on the ground that she has obtained the baby through surrogacy. A newly born child cannot be left at the mercy of others as it needs rearing and that is the most crucial period during which the child requires the care and attention of his mother. With the tremendous amount of learning that takes place in the first year of the baby's life, the baby learns a lot too. A bond of affection has also to be developed."
The petitioner was working as a language teacher on a contractual basis posted at a Government school in the Kullu district. She was blessed with a baby on 10th September 2020 through surrogacy treatment.