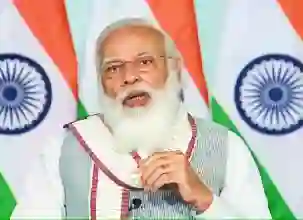 Prime Minister Narendra Modi has again reiterated the government strong push for privatisation. He said that the government is committed to privatising PSUs in all sectors except in four strategic ones. Even in these strategic sectors, the government-owned companies will be kept at a bare minimum. The Prime Minister was speaking at a webinar on privatisation by the Department of Investment and Public Asset Management (DIPAM).
The government has an ambitious plan to monetise around 100 government-owned assets as part of the monetisation plan, said prime minister Narendra Modi when he spoke about various reforms undertaken in the Union Budget.
"With this, the government will be aiming to achieve Rs 2.5 trillion investment, we are going ahead with the mantra of monetise and modernise," Modi said.
PM Modi's pitch comes months after the government indicated that it would move out of non-strategic sectors and listed 18 strategic sectors, including banking, insurance, steel, fertiliser, petroleum and defence equipment, where it would retain only a limited presence.