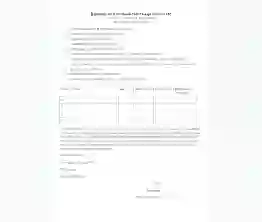 This is a sample application form for availing the Special Cash Package in Lieu of LTC. Please note that the Ministry of Finance via an office memorandum listing the Clarification / FAQ on LTC Cash Voucher Scheme has clarified that there is no prescribed format. A simple application conveying the desire of the employee for availing the scheme, if the advance is required for the purpose the same is to be mentioned. Many organisations have published their own application for this scheme. The following sample application form can be used in case the prescribed format is not available.
---
Application Form for Special Cash Package in Lieu of LTC
LTC Fare + 10 Days EL Encashment
During Block Year 2018-21
Name / Designation of the Government Servant:

Date of entering the Government Service:

Basic Pay: Rs.

Pay Matrix Level:

Whether Permanent or Temporary:

Home Town as recorded in Service Book:

Whether wife / Husband is employed And if so whether entitled to LTC:

Whether the concession is to be surrendered for visiting Home-Town, and if so block year

If the concession is to be surrendered "anywhere in India" Block year proposed to be surrendered:

Single Deemed LTC fare:

Whether advance is required: Yes / No

Persons in respect of whom LTC is proposed to be availed:
| | | | | | |
| --- | --- | --- | --- | --- | --- |
| Sl.No. | Name | Age | Date of Birth | Relationship | Block year to be availed |
| 1 | | | | | |
| 2 | | | | | |
| 3 | | | | | |
| 4 | | | | | |
I declare that the particulars furnished above are true and correct to the best of my knowledge. I undertake to produce the receipts towards the purchase or availing goods and services which carry a GST rate of not less than 120/0 from GST registered Vendors/ Service providers through digital mode indicating clearly the GST number and the amount of GST paid.
In the event of cancellation of the application or, if I fail to produce the valid receipts within the stipulated time frame, I understand to refund the entire advance in one lump sum along with penal interest as applicable.
Name of the Bank:
Saving Bank Account No.:
IFSC Code:
Branch MICR Code:
Name:________________________
Designation::________________________
Signature::________________________