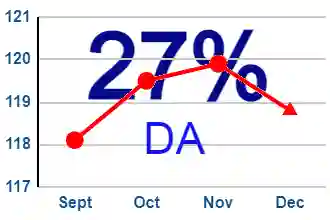 The All-India CPI-IW for December 2020 saw a negative movement for the month that ended on December 31, 2020. The index value released by the Labour Bureau, Government of India, stood at 118.8. On a percentage scale compared to November 2020, it decreased by 0.92 percent. The values since the new series was introduced are as follows.
| | |
| --- | --- |
| September 2020 | 118.1 |
| October 2020 | 119.5 |
| November 2020 | 119.9 |
| December 2020 | 118.8 |
The main factor that brought down the index was the reduction in the price of the items in the Food & Beverages group. At item level, Rice, Poultry (Chicken), Orange, Brinjal, Cabbage, Cauliflower, Carrot, Chillies Green, Ginger, Onion, Peas, Potato, Tomato, etc. contributed to the decline in the index. However, this decline was checked by the increase in prices of Soyabean Oil, Mustard Oil, Sunflower Oil, Tea Leaf, Cooking Gas, Petrol, etc.
Now the indices required to calculate the DA from January 2021 available, the anticipated Dearness Allowance can be obtained. The Dearness Allowance for the Central Government Employees is calculated based on 12 months average CPI-IW index. Despite the reduction in the index, the calculated DA allowance rate from January 2021 will be 27%.
As the government has frozen the Dearness Allowance hike till June 30, 2021, due to the COVID 19 pandemic, there is no question of the hike before that. The DA paid currently is 17% at December 2019 rates. A 4% hike for DA from January 2020 was announced by the government but was not implemented due to the DA freeze order.
Also read:
Govt likely to de-freeze and hike dearness allowance to 28%
NCJCM: Incorrect statement on DA freezing beyond June due to confusion