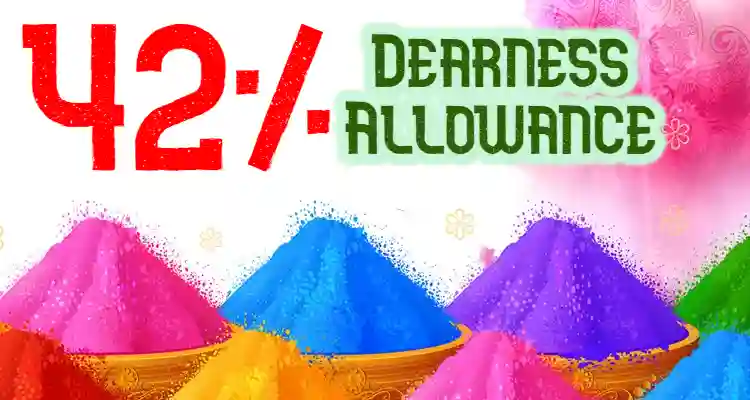 The central government employees can expect the happy news soon. It is expected that the decision on the Dearness Allowance (DA) at the next Union cabinet meeting scheduled on March 1. If approved, the Government may announce a decision on a raise in dearness allowances on or before Holi 2023. The festival of Holi falls on Wed, Mar 8, 2023.
It is estimated that the central government employees' dearness allowance will increase by 4% to 42% starting in January 2023. The DA rates are decided based on the All-India CPI-IW (consumer price index for industrial workers) for the last 12 months. These indices is a measure of the change in the prices of goods and services consumed by industrial workers in India.The calculations reveal that the DA from January 2023 is 42% because the CPI-IW for the months up to December 2022 is available.
Read: With Dec '23 CPI-IW, 4% DA hike confirmed. 42% DA from January 2023
The central government increased the DA by 4% in September 2022, raising it from 34% to 38%. According to recent reports, central government employees may also receive a 4% DA increase this time. Unfortunately, no formal statement has yet been made. With only a few days to Holi 2023, central government employees are anxiously awaiting the decision on DA increases.
As part of its operational processes, the Indian Cabinet grants Dearness Allowance (DA) to employees of the central government. The Pay Commission, which regularly analyses and recommends changes to the pay and allowances of central government officials, provided the suggestion that led to the DA hike's approval.
The Ministry of Finance typically submits a proposal to the Cabinet for review before the Cabinet begins the process of approving DAs. The plan is founded on the Pay Commission's recommendations as well as the current rate of inflation as determined by the Consumer Price Index for Industrial Workers (CPI-IW). The new DA rate, which is often a percentage of base pay, is determined by the Cabinet after consideration of the proposal.
This time, the increase in DA and DR would benefit 68 lakh retirees and 48 lakh central government employees. Government employees' salaries would automatically increase under the 7th CPC if the DA request is allowed. The current DA would increase by 4%, from 38% to 42%.
The Government may create a new commission, according to some sources in the interim, but the 8th Pay Commission was not mentioned in the recently-delivered Union Budget.