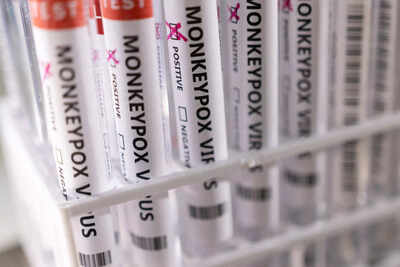 In response to an uptick in monkeypox cases in non-endemic countries, the government released instructions on Tuesday requiring district surveillance units to treat even one case as an outbreak and launch an inquiry under the Integrated Disease Surveillance Program.
The health ministry emphasised surveillance and rapid identification of new cases as key public health measures for outbreak containment in the 'Guidelines on Management of Monkeypox Disease' issued to states and union territories, mandating the need to reduce the risk of human-to-human transmission.
It added that India must be prepared due to an increase in reports of cases in non-endemic nations, despite the fact that no case of monkeypox virus has been reported in India yet.
The guidelines proposed a surveillance strategy to quickly identify cases and clusters of infections, as well as the sources of infections, in order to isolate cases and prevent further transmission, provide optimal clinical care, identify and manage contacts, and protect frontline health workers, as well as effective control and preventive measures based on the identified transmission routes.
According to the guidelines, a confirmed case of monkeypox virus is defined as the discovery of unique sequences of viral DNA by polymerase chain reaction (PCR) and/or sequencing in a laboratory.
All clinical specimens should be delivered to the ICMR-NIV (Pune) apex laboratory via the corresponding district or state's Integrated Disease Surveillance Programme (IDSP) network.
The guidelines go into infection prevention and control (IPC) measures, IPC at home, patient isolation and ambulance transfer tactics, additional precautions to take, and the length of time patients should be isolated.
During the infectious phase, contacts should be observed at least daily for the start of signs or symptoms for a period of 21 days (as defined by the case definition) after the last encounter with a patient or their contaminated materials.

Under the heading of risk communication and preventive measures, the guidelines go into greater detail about raising awareness and educating people about monkeypox virus measures such as avoiding contact with any sick person's material, isolating infected patients from others, practising good hand hygiene, and using appropriate personal protective equipment (PPE) when caring for patients.
Several other central and western African nations, including Cameroon, Central African Republic, Cote d'Ivoire, the Democratic Republic of the Congo, Gabon, Liberia, Nigeria, Republic of the Congo, and Sierra Leone, have documented monkeypox endemicity. Non-endemic nations such as the United States, the United Kingdom, Belgium, France, Germany, Italy, the Netherlands, Portugal, Spain, Sweden, Australia, Canada, Austria, Israel, and Switzerland have also reported cases.