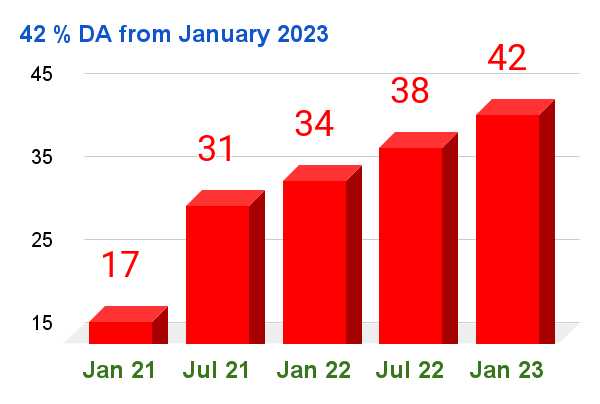 The All India Consumer Price Index (General) for Industrial Workers (AI CPI - IW) for the month of August 2022 has been announced by the Labour Bureau. The index rose to 130.2, an increase of 0.3 points from the last month. The Labour Bureau, under the Ministry of Labour and Employment, is responsible for compiling the price rise data from chosen locations across the country to decide the CPI-IW index.
The AI CPIIW forms the reference for the calculation of the dearness allowance for central government employees. The dearness allowance or the DA for the CG staff is decided based on the average of 12 months CPI-IW.
The central government staff who are cheering because of the DA hike announcement made by the government this week (Read: Cabinet approves 4% hike in Dearness Allowance), will also be keenly looking for the DA hike from January 2023. The dearness allowance from January 2023 will be calculated based on the CPI-IW for the 12 months from January 2022 to December 2022. As only 7 CPIIW are available, it will be too early to have an accurate prediction of the January 2023 DA. However, it can be estimated that January 2023 will again see a hike of DA by 4% making the total DA 42%.
You can try the DA calculation yourself using StaffCorner Expected Dearness Allowance (DA) from January 2023 Calculator
It is not only the DA, as the Government is looking forward to the 2024 general elections, many populist announcements can be expected. The 18 months DA arrears, as well as the constitution of the 8th Central Pay Commission, are eagerly expected by the central government employees