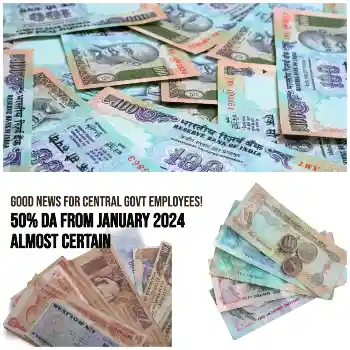 Labour Bureau's Latest release Reveals 3.3 Point Surge in Consumer Price Index for Industrial Workers (CPI-IW) in July 2023
New Delhi- The Labour Bureau's latest report, released on August 31, 2023, has unveiled significant rise in the All-India Consumer Price Index for Industrial Workers (CPI-IW) for the month of July 2023. The data indicates a substantial 3.3 point increase, pushing the index to 139.7 (one hundred thirty-nine point seven). This surge marks the most significant rise in the new series since September 2020, signaling potential changes in the financial landscape for central government employees and pensioners.
Inflation in Food and Beverages Takes Center Stage
The primary contributor to this remarkable increase in the CPI-IW was the inflationary pressure experienced in the food and beverages sector. On a one-month percentage change basis, the index soared by 1.26%, compared to a mere 0.16% increase recorded during the same period last year.
Impact on Dearness Allowance (DA) and Dearness Relief (DR)
The CPI-IW indices play a crucial role in determining the Dearness Allowance (DA) and Dearness Relief (DR) for central government staff and pensioners. With data from January to December 2023 set to influence the DA calculation from January 2024, the recent surge in CPI-IW figures suggests a potential 4% hike in DA. This would raise the total DA figure to 50%, a substantial boost in the financial benefits for government employees. The sharp rise in the July 2023 index suggests that even if subsequent indices remain stagnant, the DA will still reach the 50% mark.
With the figures available, it is seen that the DA for Central Government employees will increase to 46% from July 2023, up from the current rate of 42%. The Cabinet is yet to give the formal approval for the hike. It is expected that the government will approve the hike by end of this month before the employees receives the hiked DA and arrears.
Government's Commitment to Employee Welfare
The increase in DA from July 2023 demonstrates the government's commitment to addressing the financial needs of its employees. Central government employees can now look ahead with renewed optimism as this positive step is expected to enhance their financial well-being.
Eighth Pay Commission Announcement Looms
With general election dates drawing near, central government employees can also anticipate news regarding the formation of the Eighth Pay Commission. Stay tuned as we continue to keep you updated on further developments concerning the constitution of the Eighth Pay Commission and its potential impact on government employees' salaries and benefits.
In conclusion, the substantial increase in the CPI-IW for July 2023 signals positive changes on the horizon for central government employees and pensioners, with the potential for a 4% Dearness Allowance increase. As political and economic landscapes evolve, these developments promise to shape the future of government employee welfare and financial stability.