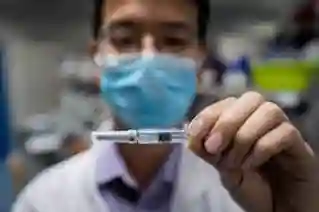 Common public will have to wait till 2022 for the shot COVID 19 vaccine as per AIIMS Director Randeep Guleria. He also reminded that the coronavirus infection will not vanish with vaccination.
Dr Randeep Guleria, also a member of the national task force on the coronavirus management in the country, interview with CNN-News18 told that in our country the population is large; we need time to see how the vaccine can be bought from the market like a flu vaccine and take it. It will take more than a year for normal people to get vaccinated.
(Also read: Govt. finalising the vaccine delivery procedures )
He told that the prime focus would be its distribution so that it reaches every part of the country. "Maintaining the cold chain, having adequate syringes, adequate needles and being able to deliver it to the remotest part of the country in a seamless manner is the biggest challenge," he said.
The World Health Organization (WHO), in a global perspective have also indicated that the healthy young person might have to wait until 2022 for the vaccination. It has warned that the warned against any complacency in the coronavirus death rate, saying with the increasing number of cases, mortality would also rise. It urges hand-washing, social distancing, masks and -- when unavoidable, limited and targeted restrictions on movements -- to control disease spread.
The WHO has said letting infection spread in hopes of achieving "herd immunity" is unethical and would cause unnecessary deaths. People talk about herd immunity. We should only talk about it in the context of a vaccine, WHO Chief Scientist Soumya Swaminathan said. "You need to vaccinate at least 70% of people ... to really break transmission."