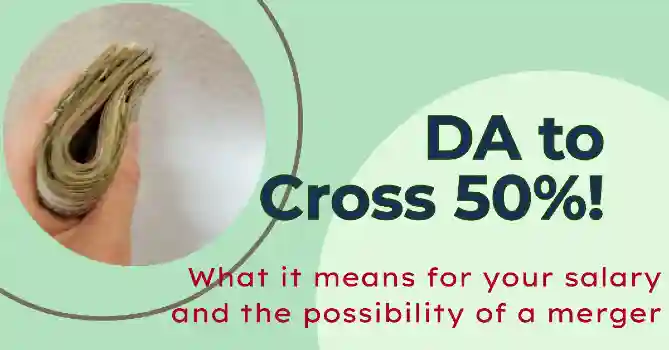 New Delhi, September 2, 2023 - In the wake of an unprecedented surge in inflation, which has propelled the AI CPI IW index by 3.3 points, it appears inevitable that central government employees can anticipate a substantial increase in their Dearness Allowance (DA) come January. Analysts predict this DA increment could well surpass the 50% mark.
Read: 50% DA from January 2024 almost certain with July 2023 CPI-IW surge
However, while this raise may offer some respite, it is unlikely to fully offset the financial burden imposed by the escalating cost of living, as it fails to proportionately align with the true expenditure patterns of government workers.
The DA increment is traditionally based on a defined basket of goods that an average industrial worker might purchase. Nevertheless, the consumption habits of central government employees significantly diverge from this standard. This mismatch raises concerns that the proposed hike may not adequately address their financial needs.
Contrary to certain reports, it is imperative to clarify that the DA will not automatically merge with the basic pay once it crosses the 50% threshold. This is because the Seventh Pay Commission did not recommend such a merger. In a historical context, back in 2004, the Central Government of India implemented the 5th Central Pay Commission's recommendation to merge 50% of the dearness allowance with the basic pay, affecting both employees and pensioners.
However, the Sixth Pay Commission refrained from advocating a similar merger. Instead, it introduced a concept of delinking pay revisions from a fixed 10-year cycle, tying them to the point at which DA/DR (Dearness Allowance/Dearness Relief) crosses the 50% mark. This approach has been consistently upheld by the last three Central Pay Commissions, emphasizing that future pay revisions should occur when the DA/DR reaches or surpasses 50% of the basic pay, thereby mitigating the adverse effects of inflation.
While the impending DA hike may offer some relief, the Housing Rent Allowance (HRA) component will see a slight hike. The Seventh Central Pay Commission had proposed a gradual increase in HRA rates to 27%, 18%, and 9% when DA crosses 50%, and further to 30%, 20%, and 10% when DA exceeds 100%. To address the current inflationary trends, the government has decided to revise these rates upwards at the 25% and 50% DA thresholds, respectively. Hence from January 2024, the HRA will be 30%, 20%, and 10% for those who are residing in X, Y, and Z type cities respectively.
In the midst of these developments, employee unions have intensified their calls for the establishment of an Eighth Pay Commission. With elections on the horizon and the government under pressure to introduce populist measures, it is highly likely that a favourable response to this demand will materialize in the near future.
As central government employees brace for the forthcoming DA hike, all eyes remain fixed on the evolving economic landscape, where inflation continues to exert significant pressure on the household budgets of millions nationwide.
Read: 50% DA from January 2024 almost certain with July 2023 CPI-IW surge