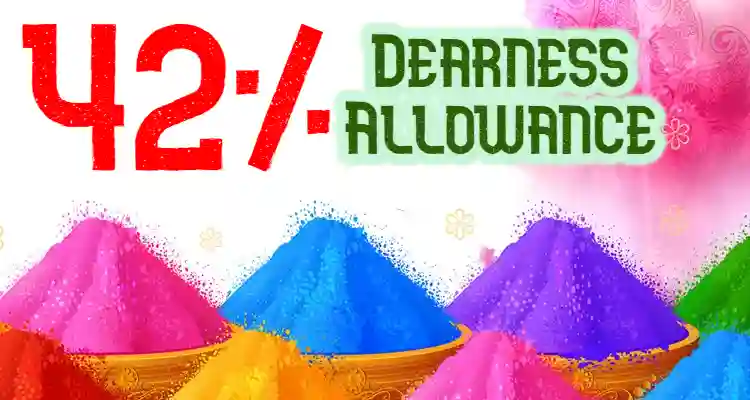 The central government employees can expect to receive the hiked dearness allowance before the Holi festival. It is seen the the dearness allowance due to the central government staff from January 2023 is 42%, that is an hike of the 4%. Sine the CPI -IW for the months up to December 2022 are available, the calclations show that the DA from January 2023 is 42%. Read: With Dec '23 CPI-IW, 4% DA hike confirmed. 42% DA from January 2023
With the Budget 2023 giveing a feeling of total neglect for the CG Staff, at least the DA hike will give some reason to be happy. It has to be noted that the government has got nothing to do with deciding the DA hike. The DA rates are decided based on the All-India CPI-IW (consumer price index for industrial workers) for the last 12 months. These indices is a measure of the change in the prices of goods and services consumed by industrial workers in India. It is used to track inflation and adjust wages and pensions for industrial workers. It is calculated using a basket of goods and services defined. The basket is based on data collected through household expenditure surveys and represents the average consumption pattern of industrial workers in urban areas. The prices of the goods and services in the basket are collected periodically, usually on a monthly basis, from selected retail outlets in urban areas.
The Cabinet of India approves Dearness Allowance (DA) for central government employees as part of its normal functioning. The DA hike is approved based on the recommendation of the Pay Commission, which reviews and recommends changes to the pay and allowances of central government employees at regular intervals.
The process of DA approval by the Cabinet usually starts with the submission of a proposal by the Ministry of Finance to the Cabinet for its consideration. The proposal is based on the recommendations of the Pay Commission and the prevailing inflation rate as measured by the Consumer Price Index for Industrial Workers (CPI-IW). The Cabinet considers the proposal and decides on the new DA rate, which is usually a percentage of the basic pay.
Once the Cabinet approves the DA hike, the new rate is notified by the Ministry of Finance and implemented with immediate effect. The DA hike is usually implemented retrospectively from a certain date, and the arrears are paid to the employees along with their regular salary.
As the Holi falls on Wednesday, 8 March, 2023, it is expected the cabinet approve the DA hike by end of february, so the the employees can receive the DA arrears before the festival. It is has to be noted that despite various sources publishing news about the 18 months DA arrears, it is unlikely that the the government will approve the arrears. The government has also clarified on the this at multiple instances.
Also, check out: Expected Dearness Allowance (DA) from January 2023 Calculator
Also, check out: Expected Dearness Allowance (DA) from July 2023 Calculator